Heat Shrink Tube Heating Machine China
Views:205 Author:Site Editor Publish Time: 2019-10-22 Origin:Site
YH6617-1 is a heat shrinkable tube heating device designed for mass production and can work continuously for 24 hours. The heating block of the machine is uniform and does not hurt the wire. It can realize single-end heating and intermediate heating, and adjust the heating range according to the length of the heat-shrinkable tube. The speed of the conveyor can be kept uniform by manually adjusting the speed.

The vertical distance and parallel direction of the heating port to the conveyor belt are adjustable, which is suitable for heat shrinkable tube heating of different size parts. It is suitable for users who have high precision requirements for wire harness heating, and is also suitable for heating high temperature resistant Teflon heat shrinkable tubes.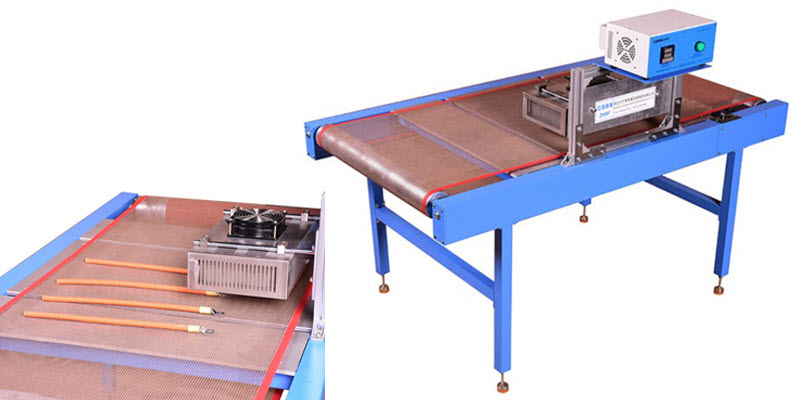 Contact us for details: sales@yuanhanequip.com
Features
Suitable for processing heating shrinkable tubing on thin wires. Not suitable for heating large diameter wire harnesses. The diameter of the heated product needs to be <15mm and the length of the heated product needs to be <660mm.
The vertical distance and parallel distance from the heating port to the conveyor belt can be adjusted, which is suitable for heating heat-shrinkable tubes of different sizes.
Double-layer insulation, sturdy casing, safe and reliable, can maintain high temperature work for a long time.
Digital menu, easy to operate, display temperature in real time
The digital stepless mediation method is used to control the power output and the temperature. The output is stable, and the temperature control accuracy is ±2 °C.
It is equipped with overheating overload protection and power-off protection device. It does not generate exhaust gas and is environmentally friendly. It can work 24 hours continuously.
This machine is equipped with an auxiliary conveyor, which can be used for heating wire harness of different sizes.
Operation video of the heat shrink tube processing equipment
Specifications
Model

Size

Auxiliary conveyor(L×W×H)

1250*770*260mm

Harness diameter

<15mm

Maximum heating sleeve length

<660mm

Heating zone

300mm

Cooling zone

200mm

Maximum conveying width

600mm

Maximum conveying height

<90mm

Conveyor Belt

Material

Teflon

Speed

1-5m/min

Conveying motor power

25W (stepless speed regulation)

Heating

Heating method

radiation

Heating tube power

1800W

Power

Power supply

220V, two-phase three-wire, 50HZ

Machine power

2KW