Fully Automatic IDC Connector Piercing Crimping Machine
Views:371 Author:Site Editor Publish Time: 2021-02-01 Origin:Site
The fully automatic IDC conector piercing crimping machine is able to process wire cutting, one end piercing crimping, the other end stripping, twisting & tinning simutaneously, and the wires in the same product can be processed to different lengths.
Model: YH-1020A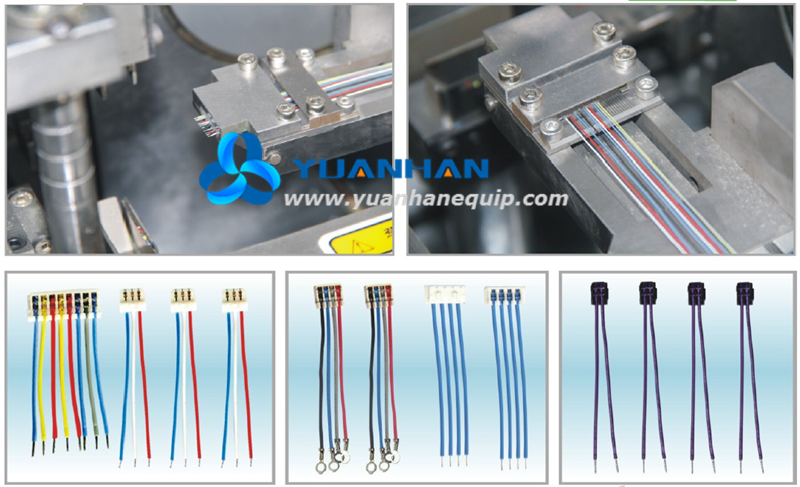 Features
Adopts PLC control system and Mitsubishi servo motor to ensure high precision, high efficiency and high stability.

Cutting length, stripping length, puncture depth, and tin depth can all be set by touch screen.

All the faults of the machine are displayed on the touch screen, so that you can know the cause of the machine failure at a glance and quickly adjust the machine to the best condition.
Contact us: sales@yuanhanequip.com
Operation video of the Fully Automatic IDC Connector Piercing Crimping Machine
Technical Data
Model

YH-1020A

Voltage

VAC 220V/50Hz, 110V/60Hz

Functions

Wire cutting, one end piercing crimping, the other end stripping, twisting & tinning,

and the wires in the same product can be processed to different lengths

Spacing

0.6mm-3.96mm

Stripping tolerance

0.01mm

Tool value accuracy

0.01mm

Wire cutting length

10mm-800mm

Wire stripping length

0mm-10mm

Efficiency

700piece/hour (Based on actual wire terminal)

Weight

about 350kg

Dimensions

235x100X160cm