Shielded Cables Braid Brushing Machine
Views:220 Author:Site Editor Publish Time: 2019-08-01 Origin:Site
There are several areas within the cable assembly industry where process consistency can make, or break, overall quality of the end product. One such area is in managing braid on shielded cables.
Whether the braid is to be removed, folded-back or twisted it is essential to ensure that the fibres are not overworked, and therefore work-hardened and brittle and that the braid can be handled with minimal loss of strands.

Once stripped the braid needs to be brushed-out before any other operations can take place and here the YH-SX05 and YH-SX30 braid brushing machines from Kunshan Yuanhan Electronic Equipment can help you.
Whether long or short braid, forward or folded back you can be assured of highly consistent results.
Both products have a range of brush-head options to suit the density of the braid and the gauge of the strands to ensure repeatability and both machines offer both a forward operation mode (for brushing-out the weave) and a reverse-mode operation for those applications that require the braid to be folded-back, perhaps for a shielding connection to a connector shell.
Minimal maintenance and fast operation help ensure a fast payback and ongoing returns on what is a relatively modest investment.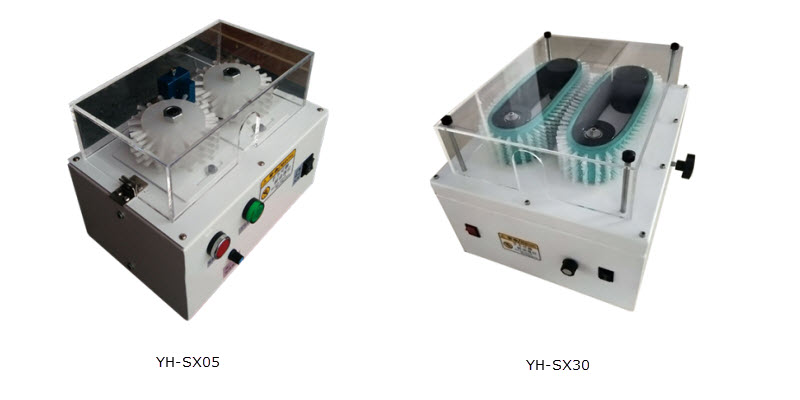 Send email to sales@yuanhanequip.com for a quote
Product Highlights
The cable braid brushing machine can process forward rotation and reverse rotation. The safety shield and the positioning function make it safer and more efficient.

Applicable wires: all shielded wires, such as winding shielded wires and braided wires

With controllable speed and stable performance, the production efficiency is improved.

The machine speed can be adjusted and controlled appropriately according to different wires.
Operation video of Cable Shield Braid Brushing Machine YH-SX05
Operation video of Cable Weave Brushing Machine YH-SX30
Send email to sales@yuanhanequip.com for a quote