Wire Stripping Machines for Coax Cables
Views:152 Author:Site Editor Publish Time: 2019-09-03 Origin:Site
Wire stripping machines for coax cables is a unique field. It requires wire stripping machines with a complex stripping mechanism and absolute precision in the wire processing. These industrial wire stripping machines will make your work easier.
The following coaxial cable machines are currently available:
1. Multi-layer Coaxial Cable Stripper Machine
Model: YH-9600S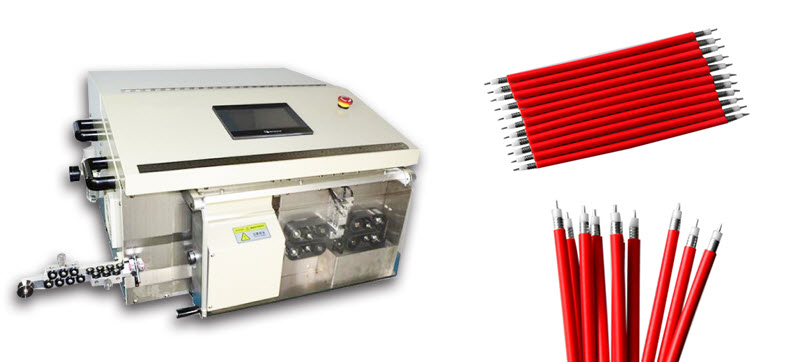 Features
This multi-layer coaxial wire stripper machine is suitable for cutting and stripping semi-flexible coaxial cables with an outside diameter of 3.0mm to 5.5mm.

Features middle stripping and segement stripping

Up to 60 sets of cable processing data can be stored, which is convenient for processing a variety of cables and greatly improves production efficiency.

The machine has an intelligent control system with a series of functions such as automatic stop for lack of material.
2. Coaxial Cable Stripping Machine
Model: YH-2520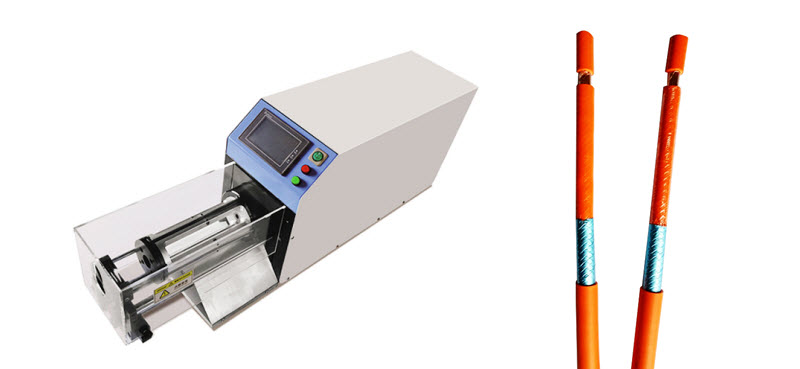 Features
Suitable for stripping coaxial cables and special single wires

Easy-to-use LCD interface, rotary knife, simple tool change, easy setting of each function, control by foot pedal, safe and simple
3. Small Coaxial Cable Cutting Stripping Machine
Model: YH-BTZ
Operation video of small coax cable stripping machine
Features
This automatic coaxial cable cutting and stripping machine is mainly used for processing of small gauge coaxial wires.

Available wire size: 0.1-4.5 sq mm (AWG14#-AWG32#)

One-time cutting and stripping

The machine adopts hybrid drive and is a fully automatic CNC equipment that introduces advanced technologies from Japan and Taiwan

Suitable for PVC cables, Teflon cables, Silicone cables, glass fiber cables and much more

LCD touch screen dialog mode, beautiful appearance, simple operation, easy maintenance, stable performance, fast speed, and high precision

Widely used in wire processing in the electronics industry, automotive and motorcycle parts industry, electrical appliances, motors, lamps and toys

Saving labor and time and increasing productivity
4. Semi-automatic Multi-layer Coaxial Cable Stripping Machine
Model: YH-6806/YH-6806D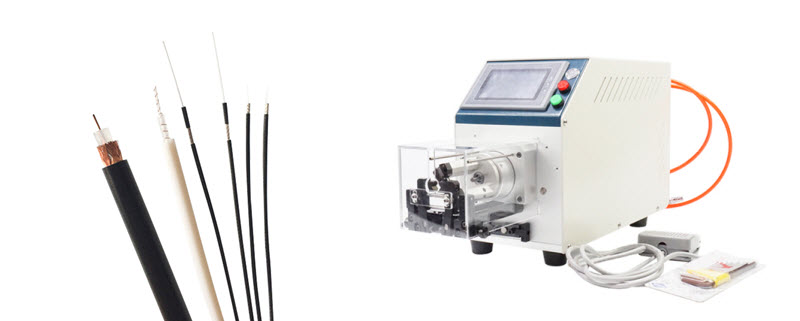 Features
Cable processing type: Coaxial cable, triaxial cable, shielded cable and rigid cable.

Processing wire range: 0.8-7.0mm, such as rf1.13, rf1.78, rf3.16, rg58, rg59, rg1.41, etc.

The machine provides flexible storage and recall of data for easy processing of cables of different diameters.

The blade is made of Swiss tungsten steel to ensure the life and accuracy of the blade.
5.Coaxial Cable Spiral Stripping Machine
Model: YH-8608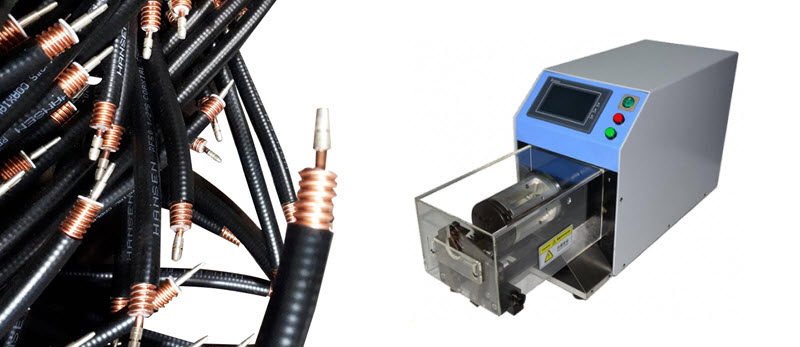 Features
This semi-automatic coaxial wire stripping machine can strip up to 9 layers

The color touch screen control system makes it easy to set up various functions, and can save 50 sets of data

Three working modes: automatic peeling, manual peeling, and foot switch operation peeling

The transmission is driven by Japanese NSK ball bearings and wire rods to keep the motion accuracy within 0.08 mm

The host control system adopts Japan OMRON high-precision PLC multi-point control system, and the performance is more stable

The coaxial cable stripping machine uses a specific concentric positioning device, so that the user does not need to retrieve the center when changing the tool

The blade adopts imported Swiss tungsten steel, and the precision of the cutting is ensured by 15 high-precision grinding processes with a knife edge finish of 0.0005 mm
6.Fully-auto Coaxial Wire Cutting Stripping Machine
Model: YH-9800

Features
This fully automatic coaxial wire stripping machine is designed for processing of coaxial cables used in the field of communication manufacturing

Wire cutting and multi-layer or multi-stage peeling can be done at one time

The coaxial wire stripping machine adopts rotating cutter head to rotate and cut, the V-shaped blade cuts and peels, and the two sets of cutter heads cooperate with each other to more accurately improve the quality and output of the processed products

It can perfectly cut the woven mesh layer without injuring the inner layer
Contact us for details: sales@yuanhanequip.com