Cable Outer Jacket and Inner Core Wires Stripping Machine
Views:269 Author:Site Editor Publish Time: 2019-11-27 Origin:Site
This fully automatic wire cutting and stripping machine is designed to strip outer cable jacket and inner wire cores, high working efficiency, very useful in wire processing field.
Model: YH-8500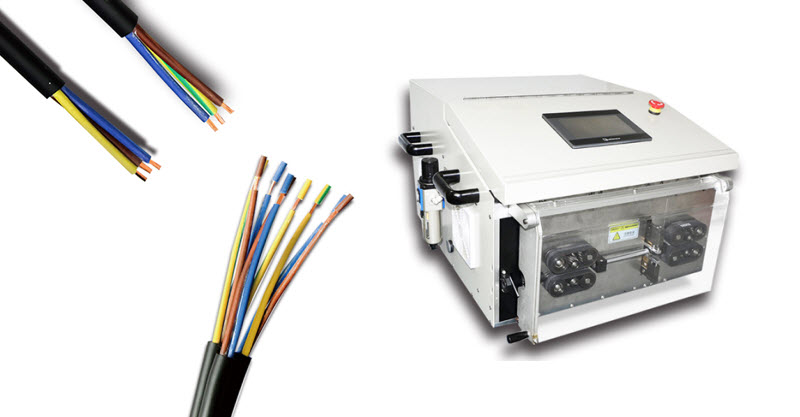 Features
This machine is suitable for processing multi-core sheathed cables and special single core wires.

Wire cutting, outer sheath stripping and inner core insulation stripping can be done samutaniously, saving labor and improving processing quality.

Different sets of blades perform wire cutting, the outer sheath stripping and inner core peeling. The incision is neat and the peeling quality is stable.

Up to 100 sets of storage capacity, so that all kinds of processing data can be completely saved and retrieved at any time.
Contact us for details: sales@yuanhanequip.com
Operation video of the Cable Cutting Sheath Peeling and Core Stripping Machine
Specifications
Model

YH-8500

Display

7-inch LCD

Wire diameter

3.0-8.0mm

Min. diameter

0.6mm

Cutting depth unit

0.01mm

Stripping accuracy

±0.1mm

Stripping layer

up to 8 layers (adjustable)

Production efficiency

750-1300Pcs/h (depending on the cutting length, and the maximum speed can be reached

when the total length is 100mm)

Rotary blades

2 blades, imported tungsten steel

V blades

2 blades, swedish high speed steel

Power

220/110V 50Hz (customizable)

Air pressure

0.4~0.6Mpa

Weight

102kg

Drive mode

motor\ball screw drive

Dimension

760*700*400mm

Storage

100 sets of cable processing data

Working environment

0-45 degrees, dry and vibration-free work surface