High Accuracy Pneumatic Cable Core Wire Stripper YH-2015C
Views:289 Author:Site Editor Publish Time: 2020-04-27 Origin:Site
YH-2015C pneumatic wire stripper is used for processing single conductors and inner conductors of multi-core cables. The pneumatically operated YH-2015C stripping machine excels with its compact design, fast cycle times and infinite settings for conductor diameters, stripping and pull-off lengths.

YH-2015C is a pneumatic wire and cable stripping machine and the perfect solution for stripping discrete wires and small multi-conductor cables up to 3.2 mm (0.12") O.D. The compact machine strips lengths up to 20 mm (0.78"). YH-2015C satisfies the ever tougher quality requirements in wire processing. High precision and short cycle times for full and partial pull-off are characteristic of YH-2015C equipped with V-blades (blades can be customized). Operating strictly electrically, the portable machine can be used anywhere a power socket is available. The ease of operation and the short cycle times make YH-2015C ideal for a great diversity of products made in small to medium quantities.

This machine has lots of advantages such as Outstanding ease of operation, Light and portable, Extremely short cycle times, No blade change necessary, Strips very short cables, Simple machine operation, Robust & reliable.

Available Material
Discrete Wire, Solid Wire, Stranded Wire, Single Conductor Cable, Wire, Cable, Rubber, PUR, PVC, Teflon®, Tefzel®, etc.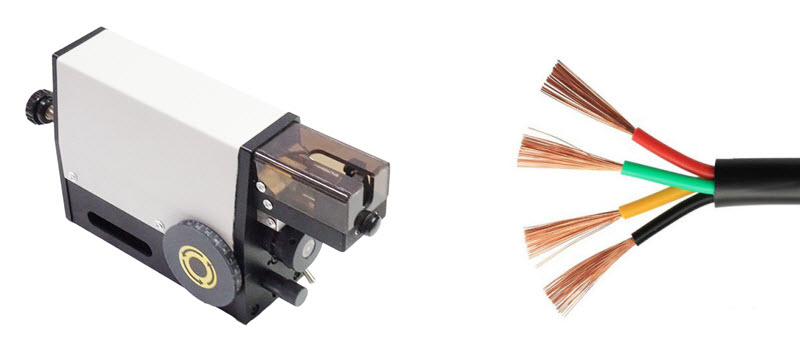 Features
Suitable for stripping discrete wires and small multi-conductor cables

Extremely short cycle times

No need to change blade

Being able to strip very short cables

Easy-to-operate, robust and reliable
Contact us for details: sales@yuanhanequip.com
Operation video of the High Accuracy Pneumatic Cable Core Wire Stripper
Technical Data
Model

YH-2015C

Wire size range

0.03 – 2.08 mm² (32 – 14 AWG)

Max. outer cable diameter

3.2 mm (0.12")

Stripping length


1-20 mm

Precision of diameter setting

0.01 mm (0.001")

Cycle time

approx. 0.3s

Dimensions (L x W x H)

265*70 *135 mm (10.4" * 2.8" * 5.3")

Weight

Net: 2.0 kg (4.4 lbs.)
Gross: 3.0 kg (7.7 lbs.)