Shrinkable Tubing Heating Oven for Wire Harness
Views:126 Author:Site Editor Publish Time: 2019-08-20 Origin:Site
This shrink tubing processing machine is suitable for heating heat-shrinkable tube of wire harness processing enterprise. Working time and heating zone width can be adjusted according to production requirements.
Model: YH2060-2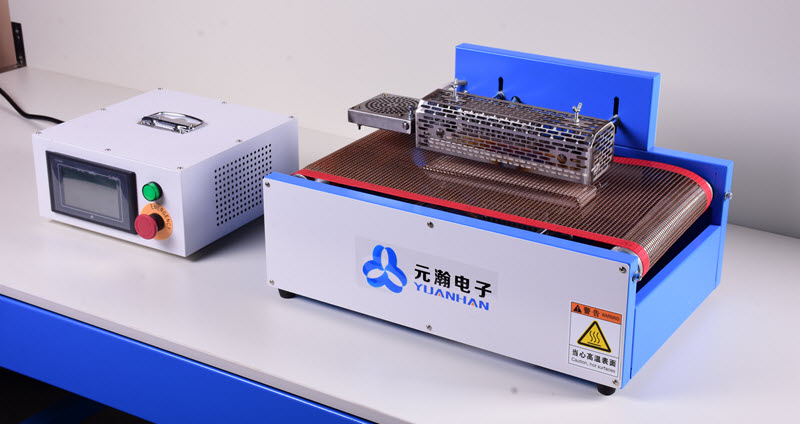 Contact us for detail: sales@yuanhanequip.com
Features
The device displays the current set value and the actual set value in real time through the touch screen, such as:
A, the set temperature (°C)
B, real-time temperature (°C)
C, conveyor belt running speed (m/ min)
D, shutdown cooling time (S)
E, PID adjustment P value, I value, etc.
The heating conveyor belt has a width of 280mm and the heating plate has a width of 60mm (optional 80mm/120mm). The position of the heating plate can be manually adjusted relative to the conveyor belt. Accurate heating is achieved by adjusting the position of the placed harness without damaging other parts of the wire harnesses.
The double design of the heating plate shell isolates the internal and external temperature, which saves energy and protects the working environment.
Adopt industrial touch screen + PLC design, human-computer interaction is simple and intuitive, and parameter modification is simple and easy to learn.
The conveyor belt adopts DC stepping motor, the speed is adjustable from 0~5m/min, and the torque is constant at low speed to meet various production requirements.
The heating temperature and heating speed can be adjusted arbitrarily to realize the automatic operation of the equipment.
Operation video of the shrinkable tubing heating machine
Specifications
Model


YH2060-2

Size


Machine

(

L×W×H

)

453×334×250mm

Control power supply

(

L×W×H

)

300×300×140mm

Maximum heating size

(

L×W

)

240mm×60mm

(

optional

80/120mm

)

Maximum heating width

60mm

(

optional

80/120mm

)

Maximum conveying width

225mm

Maximum conveying height

50mm

Conveyor


Material

Teflon

Speed

0~5m/min

Stepper motor power

200W

(

Stepless speed regulation

)

Heating pipe

Heating pipe name

Heating porcelain plate

Heating plate power

1000W*2

Power

Power demand

220V

Total power

2400W

Security

Security level

PE line

,

emergency button